Cherry Red Slots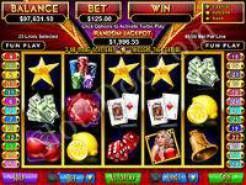 Current Jackpot
$1,973.79
Play Now
Cherry Red Slots stays true to its roots. The traditional and classic side of gambling, so often neglected and becoming an endangered species. Cherry Red puts that right, by taking gaming back to its modest, yet original roots. The game offers a format of 3-reels, along with just one pay line. The backdrop is a cherry plantation, with the reels as the centrepiece. With an appearance reminiscent of mechanical slot machines from the 1950's, the 1960's and 1970's. An old-school slot with straightforward game controls and functions.
Cherry Symbols & Appearance
Cherry Red Slots is loaded with traditional symbols and retro style. Symbols include red sevens, red cherries, a gold bell, single, double and triple bar symbols. All classic fare, and all appropriate for the style and game in general. The symbols scream out of the reels, and your screen in bright colours, really sticking out like a sore thumb, but with a positive effect. They are in effect graphically satisfying and lend a retro style to the appearance of the game. The presence of the pay table on the screen allows a clear view of the game symbols, combinations, and possible payouts. The colours of the pay table are equally bright and flashy with red, green and purple hues.
Cherry Wild & Jackpot
The Cherries symbol is the game's Wild symbol. It can create wins at random, and surprisingly and unexpectedly. The Wild can double your win if you get just one. Getting two of them entails a payout of 4x your bet. Landing all three will win you the jackpot of 800x your bet!
Wagering on Cherry Red
The betting process is extremely straightforward. Just select the coin values using the up and down buttons at the base of the screen. Coin values range from $0.01, increasing to $5 per coin, which widens the options for wagering. You can also select to use the maximum coin amount, of two coins on the single pay line; this brings the maximum betting limit up to $10 per spin. Betting two coins ensures double the payout, double the excitement, and attracts higher payouts as well.
Cherry Red Summary
When it comes to thrilling, three reel slots, this is one of the better ones. Although there are few unique features, and a lack of bonuses and free spins, the game does have a Wild function, which leads to high payouts and ultimately the jackpot. The game is uncluttered by gimmicks and glitter but packed with a more pure form of gambling prevalent on the slots of past decades. Cherry Red Slots manages to encapsulate the essence of gaming in this one game. Try out a more traditional gambling game from a bygone era, but brought into the 21st Century. Discover a pure and magical casino experience playing Cherry Red Slots.