Mice Dice Slot Game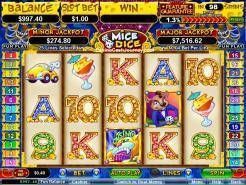 Current Jackpot
$2,301.12
Play Now
Everyone knows mice are hard working and industrious creatures. They are also very cute especially as portrayed on the big and small screens. The sheer number of cute mice we have witnessed over the last 100 years is a testament to their popularity over the years and in many countries with diverse culture. Mickey Mouse and Jerry (Tom and Jerry) are the first two that immediately spring to mind. With a mouse themed game such as Mice Dice , winning is easy and although the mice will work you into a frenzy, they will also lavish cash rewards, bonus rounds and Free Spins.
Mice Dice Fever
It is to be expected that some of the game Symbols will portray mice. In fact there is more than one mouse on display. There is the elegant, blonde, Lady Mouse, the prim and proper Croupier Mouse along with the clockwork, Mouse's Car, a Cat Casino (presumably signifying danger and excitement from a mouse's point of view!) and the Numbers 9 and 10, with Letters J, Q, K and A representing the high card values used in the game.
Game Rules & System of Play
Mice Dice used a tried and tested 5 Reel, 25 Pay Line format and layout which lends quality and dependability to the game. There are Wild and Scatter Symbols (features) in the game and a welcome, duel Progressive Jackpot which pay out indiscriminately to all players no matter how big or small the wager. That is the beauty of a Progressive Jackpot, it hits randomly and unexpectedly. There is the Minor and Major Jackpot with different starting amounts that quickly rise to very high levels. The Free Games Feature can be guaranteed for after 100 Spins with a small credit wager or deposit. This useful feature is an optional choice.
Special Feature
The Wild is represented by the Dice Throwing Mouse, and it may replace other Symbols (apart from the Scatter) to create winning configurations. The Wild also triggers a solitary Special Feature as soon as 3 (or more) Wilds land on the reels, from left to right. The Special Feature Game involves getting 2 Dice Symbols on the Reels that will roll and offer values. The sum of the Dice values you are dealt will constitute the number of Free Spins you have won. It is a simple premise, but nevertheless engaging and exciting. Especially when you factor in the Multiplier effect into the equation. You can win a 6 times or 10 times your initial wager. Coin values range from $0.01 and move up to $1 per coin and one has the option of choosing how many of the 25 Pay Lines to wager on. It is possible to wager $0.01 on only one Pay Line and use the Auto Play function to sit back and watch the machine Spin and Spin again until you win something. In theory anyway. Mice Dice is the real thing. The payouts are real, the mice are not of course, but who cares? The theme is interesting and the characters cute and amiable. The layout and controls function to perfection and the graphics and sounds more than adequate. Mice Dice deserves your attention because it is an honest, fun game to play with no pretensions and no bull. Just a plain gaming experience which is what many of us love and want.