Monster Mayhem Slot Game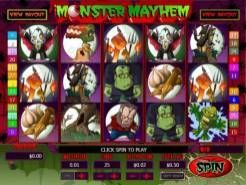 Current Jackpot
$6,032.25
Play Now
Monsters everywhere, creatures in the streets, carnage, death and destruction are all around the city. What are you going to do? Where are all the superheroes? The city is being destroyed by the Monster's Mayhem . How can they be stopped and destroyed before they kill everyone?
Set the Controls for the Heart of the Sun
Game play controls are clear and user friendly. The layout is also pleasing and easy to comprehend. With 5 Reels and a whopping 50 Pay Lines, there is nothing more one could ask from a premium Slot game apart from good winning chances and high payout percentages. All it takes is to select the number of lines you would like to wager on, and the coin value of each line (bet), Spin those Reels and you are away. The Auto Play, Spin, Maximum Bet, Help and Info Buttons are the most important and to be used as will. The Up/Down Buttons allow modification of your betting amounts, however, if you choose to use Auto Play you can set the number of automatic spins you desire and can just sit back and enjoy the show (game). The Cashier Button allows deposits and withdrawals, viewing your account history and other useful functions. You can choose to wager on lines 1 to 50, individually or all at once.
Monster Symbols
You get some impressive character Symbols such as; 2 different Monsters (Smash and Crash), a Helicopter, a Photo Camera, a Monster Magazine, a Monster Vehicle, a Monster Footprint and a Fire Hydrant. The Monster Symbols have special powers as they are the Wild Icons in the game. Their power lies in the ability to replace every other Symbol to create winning combinations. A great power indeed as you will find out upon trying the Free Practice Game. The Scatter is the City Symbol, however, with Monster Mayhem, the Wilds "can" replace the Scatter! So if you manage to land Smash anywhere on the first Reels with Crash landing anywhere on the fifth Reel, then you are in for a great reward; as much as 10 Free Spins plus other unexpected gifts, bonuses and cash rewards and a Multiplier to boot. On the other hand, the special powers on offer for the Scatter (the City), they are added automatically to your line wins and also multiplied by the total bet.
Two of a Kind Jackpots
Monster Mayhem has not one, but two great a Progressive Jackpots. Both randomly awarded and open to everyone no matter your original wager amount. The minor Jackpot starts at $250 and the major Jackpot at $1000, however these amounts can increase considerably. Both Jackpots are awarded at the end of a game and independently from one another.
Monster Mayhem successfully blends a great theme with colourful characters and graphics along with great gambling action, chances to win huge Jackpots and cash awards, no easy feat. Monster Mayhem is an exciting and action packed game on both fronts, game atmosphere and winning opportunities. Welcome to the Mayhem, Monster Mayhem leads to monster wins.