Shopping Spree II Slot Game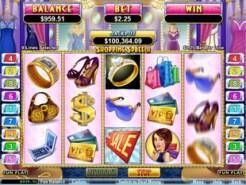 Current Jackpot
$665,677.62
Play Now
What exactly is the appeal that Shopping holds on 75% of the population? That is a good question. It is the pure pleasure of spending money on things. It does not matter if you need them, although that helps. What is important is the splendid feeling of spending money, preferably someone else's. This is the reason that Shopping Spree II is here. The success if the first installment has ensured this.
What's Your Fancy?
5 Reels with 9 Pay Lines greet you upon entering Shopping Spree II. You also get a plethora of desirable objects to buy on a prospective (real) Shopping Spree. Add to that a generous Progressive Jackpot and you have a winner on your hands. From expensive Rings, Jewellery, designer Sunglasses, branded Stiletto Shoes, a Computer, a Mobile/Cell Phone, Credit Cards, a Necklace, a VIP Card, a Diamond Ring, a Dollar Sign, a few of Shopping Bags presumably full of newly bought gifts, a Shopping Spree and a Sale Sign.
Super Symbols
The Scatter Symbol is the Shopping Spree II Icon which leads to Free Games. Getting 3 (or more) Scatters wins you 9 Free Games and Shopping Spree bonus points for every Spin you make. These points are collected until reaching 1,000 in number, then can be redeemed into 3 additional Free Spins, and Reel 3 is stacked with Scatters. If you get 500 to 900 Bonus points your bet is multiplied by 3, and even if you get zero points, you will still get 100 times your triggered bet. The Wild is the Sale Sign which appears grouped in Reel 3 and replaces all other Symbols to create winning combinations. Additionally, the Wild Symbol multiplies all wins by 2, 3, 5, 10 or 20 times your wager. Shopping Spree II also provides a really exciting Progressive Jackpot. This can be won by getting 5 Diamond Rings on the Reels. You also quality for a 20 times Multiplier.
Beat the Queue
Avoid the shopping crowds on Black Friday and Cyber Monday by joining Shopping Spree II in the comfort of your home or on the move with your mobile device. There is no need to wait for after Thanksgiving to get all the bargains. Furthermore, Shopping a Spree II may even win you a large amount of spending money to go on a real Shopping Spree without having to wait for Black Friday bargains.