Tally Ho Slot Game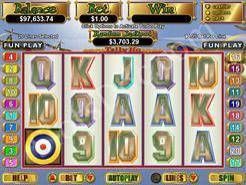 Current Jackpot
$1,098.80
Play Now
The quintessential Englishman's restrained battle cry. Unleash the hounds of hell onto the unsuspecting game player and you have one hell of a great premise and prelude to a game; Tally Ho , all 5 Reels and 9 Pay Lines. Fox Hunting is one of those purely English pastime for the rich and wealthy. Normally taking place on their own extensive land, very often up North, even as far as Scotland. The expression "Tally Ho" has become universal and used in many other situations, as here within this game.
British Culture
What characteristics do the English have? What immediately springs to mind when you think of England? Strawberries and Devon Cream, an elegant Stallion, Tea with Scones and Cream, sleek British automobiles, pretty blondes? Polite manners and being diplomatic and complimentary? All the above perhaps? Well, Tally Ho provides some interesting characters connected, somehow with the life of wealthy, British, their culture and traditions. You get Symbols such as; a sly Fox, a luxury Car, Cheese and Crackers, Strawberries and Cream, Tea, Cheesecakes, a traditional British Mansion, a Hunting Horn, Sandwiches and a Stallion. Desirable items to be sure.
Values & Bonuses
Tally Ho has a great selection of Coin and Wagering options. With betting options starting from as low as; $0.01 all the way up to $90 (if betting maximum bets on all the Pay Lines). So you want to consider your wager and budget carefully before embarking on the game. Luckily for you, Tally Ho provides Free Practice games as well as very low wagering ($0.01) per Spin. The notable features Tally Ho offers is an impressive array. Starting with the Free Games. These are tied to the Wild Symbol which is the Stallion. The Scatter is the Hunting Horn and getting 3, 4 or 5 Scatters ensures you win 10 Free Spins. The Multiplier is tied to the number of Scatters you get on the Reels. Besides this, don't forget there is a generous Multiplier of 4, 25 and 50 respectively. The function of the Wild, which is the Horse Symbol, is to configure winning combinations for you to increase your chances of winning. The Wild replaces all the other Symbols in the game apart from the Scatter. It also doubles your winnings! The final Bonus feature is the Gamble feature. This offers you the choice of double or lose, with the flip of a card at the end of each game, alternatively, you can choose to guess the card suit in order to quadruple your cash winnings. Tally Ho is a well designed Slot game with an innovative theme; the British upper class. The idea is so outlandish it actually works perfectly. If you attempt to give Tally Ho a shot, you will be really impressed with the game. The graphics and sound effects, along with the (good) choice of characters employed blend to make Tally Ho a real gaming experience with great chances to win big.