Naughty Or Nice? Slot Game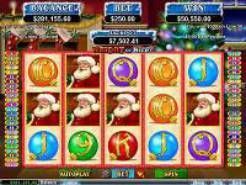 Current Jackpot
$5,122.44
Play Now
Whether you have been good or bad this last year, Santa has something in store for you either way. Forget the Nice List and forget the Naughty List, here you get both at the same time. Let's face it, you deserve a bit of festive cheer. This game will provide you with an escape route from the mundane and routine, a step into the unknown, where vintage style design blends with the latest technology.
You are greeted and welcomed to the game by Santa's sexy helpers, the green, scantily dressed one and her gentle companion in crime, dressed (almost) on the Blue outfit, both complete with Santa's hat. Work your way to a festive frenzy along with Santa Claus, Mrs Claus (?), Reindeer and lovely holiday Presents galore. The festive spirit of Christmas is captured here in particularly the money making business and commercialisation of the once holy feast, but time marches on and waits for no one.
Game Layout & Tools of the Trade
5 Reels await you with 25 Pay Lines at your disposal upon which to wager. Once you select your bets by using the Up and Down Buttons, then choose the Pay Lines you want to wager on, hit the Spin Button and watch those Reels spin round for your pleasure. Coin and betting options are wide and varied with coin denominations ranging from a minute $0.01, up to a more respectable $5 per coin. Ready? Get set. Go! The "holiday specials" have arrived. What else can we expect from Naughty or Nice? Well, for a start there is the engrossing theme and graphics to content with. Then there are the character Symbols, anything else? Oh yes, great payout percentages all around meaning you have a wonderful chance of winning something. The Auto Play Button is a great addition with setting permitted for up to 1,000 Spins! Which may seem incredible but isn't if you are playing low stakes of say, $0.01 per Spin! Some other notable features which cannot go unmentioned includes Help and Info Buttons; which are there to be used and studied prior to wagering real money. It really is the best strategy without a doubt. Once you master the game functions using the Free Spins for training, you can then "set the controls for the heart of the sun".
Endgame
The great thing about Naughty or Nice is that you get the best of both worlds and you "can" have your cake and eat it. All it takes is persistence, resilience and a basic strategy with self imposed limits. If you are able to overcome the initial obstacles you could certainly be in with a splendid chance of winning a huge payout from Naughty or Nice. What's more the game has a Progressive Jackpot which pays out randomly. So you are in with a chance from the outset and from your initial bet. Do not pass by the chance of a least trying this game. It will warm you during the cold winter and cool you out in the heat of summer. It is that kind of game.